Create New Sign Project using Word Templates
Business Background
Create a flexible Word template with single or multiple predetermined signers using the robust Titan signing process together with static text and dynamic Salesforce data.
Titan Solution
Use Titan Sign, tailor-made for Salesforce, to automate signing processes for your clients.
The dynamic template auto-adjusts the structure of the document according to the dynamic contents from Salesforce. For instance, a document that returns the information of five contacts will be shorter than a document that returns the information of 20 contacts.
The dynamic Word template will adjust the structure and layout of the document according to the static text and dynamic data.
Automatically sync data with Salesforce in real-time, and auto-adjust the layout of the template according to the returned information.
This will result in a document that is flexible and represents the data in the best layout and structure.
For static PDF documents, create a Titan Sign PDF project.
How to Video
Video Coming Soon!
How to Guide
Note:
Optional step:
Do the one-time setup to create general email templates for all Titan Sign projects.
On the Titan Dashboard, click on the New Project button. The Select Project Type screen opens.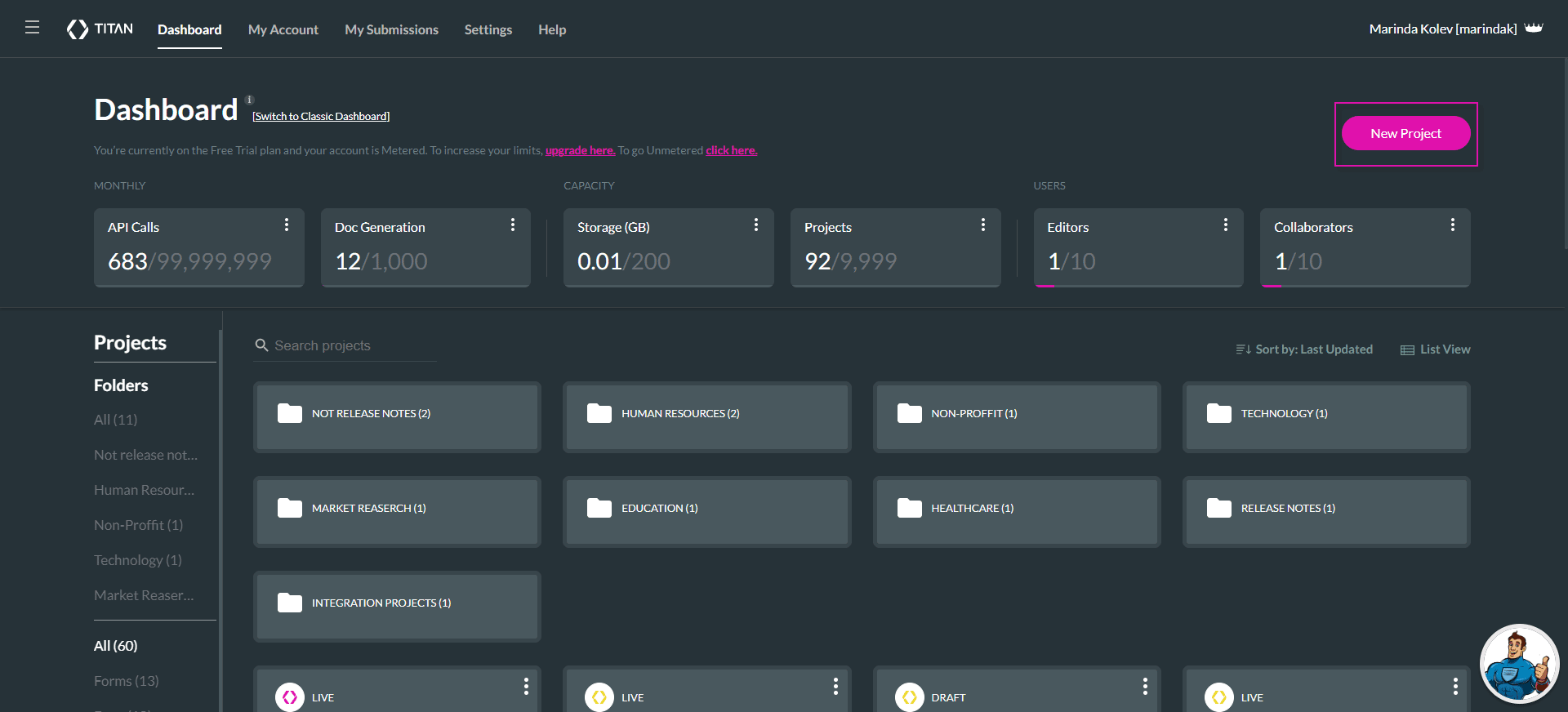 Click on the Doc Gen option and click on the Next button. The Select Doc Gen option opens.
Click on the E-Signature option and click on the Next button. A new Sign project opens.
Add a dynamic Microsoft Word template, or upload a Word document by clicking in the block. The document will be uploaded to the server.
Note:
The Word template must be created using the Titan Word add-in, containing merge fields from Salesforce. If the template doesn't contain interactive Salesforce fields, you will not be able to add the template to the Sign project.
Click the Settings option and then the Document access option.
Note:
You also need to set up the collaborator permissions. Click here for more information.
Hidden Title
Was this information helpful? Let us know so we can improve!