Project Source
Business Background
You can choose whether to use your own template and/or upload a file.
Titan Solution
Titan Sign Wizard lets you seamlessly add a variety of documents. Whether using a template or uploading a file, Titan Sign Wizard makes the signing and approval process faster and easier to track.
How to Video
Video Coming Soon!
How to Guide
Note:
Prerequisite:
Make sure you have completed the Sign Project setup process before proceeding.
Note:
The settings made in the Sign Wizard override the settings made in the Titan Sign project.
The Titan Sign project is not affected by the Sign Wizard changes.
Select a Salesforce object, such as Opportunities.
Initiate the Titan Wizard.
Click the Sign option and click on the Next button.
There are three methods you can use:
Use a template
You can choose to use a configured template document for users to interact with.
Note:
All the interactive fields, collaborators, signers, and project definitions that were added to the template using the Titan Sign are compatible with the wizard.
Select a template by clicking the checkbox and then click the Add button. Only Titan Sign projects that relate to the object displays.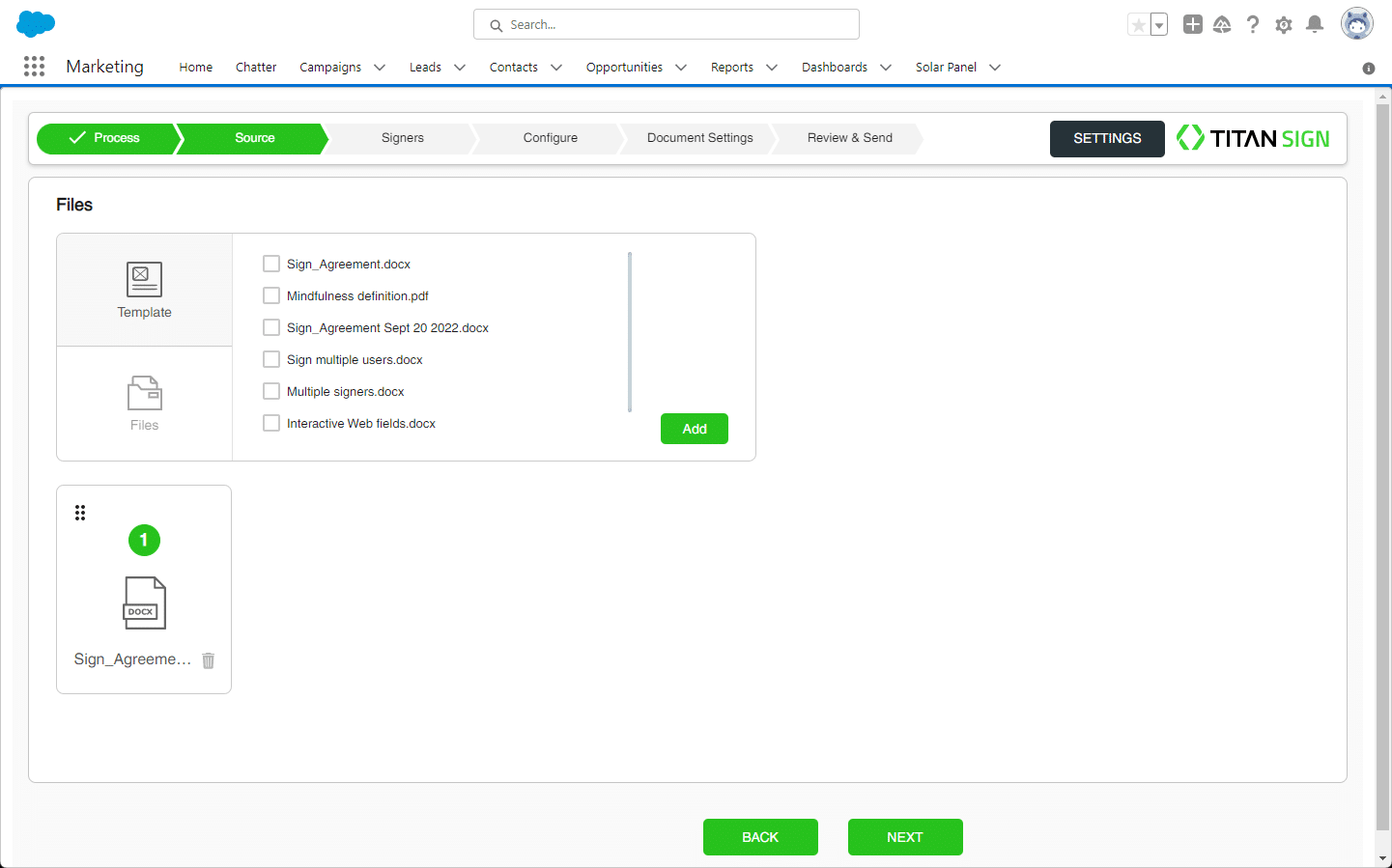 Alternatively, select more than one template and click the Add button.

The templates will be merged in the order that they appear on the screen.
You can drag the blocks to change the order.
Click the Next button. You will see the following message: "Preparing your document, please wait." The Signers screen opens.
Use a file from Salesforce
Note:
Documents that already has interactive fields are not supported, and you will see the following error: "Titan Document Template is not supported. Please reach out to your Titan admin for that."
You will be able to add interactive fields to the document when you configure elements.
Click the Files option.
Note:
From Salesforce is the default option.
Add a search word or part of a word in the field. If results are found, a drop-down list will be shown.
Click on an option to select it. The file is added.
Upload a file from your PC
Click on the Upload Files tab.
Drag a file to the block, or click in the block to upload a file.
Browse to the file on your computer. The file is added.
Select the Next button. You will see the following message: "Preparing your document, please wait." The Signers screen opens.
Hidden Title
Was this information helpful? Let us know so we can improve!