Invoke Titan Sign without Preview
Business Background
Trigger a signing process quickly without a preview, with fewer clicks and no coding.
Titan Solution
Titan enables you to initiate a signing process from a project without previewing the document first.
How to Video
Video Coming Soon!
How to Guide
Note:
Prerequisite:
Create a Titan Sign project.
Navigate to Titan Web Application.
Select the expand (+) button next to the settings icon. A list of elements will show.
Select the Input option from the list.

A button was used in this example.

Drag and drop the Button element to the canvas.
Click the On Click Action icon on the element.

The On Click Action screen opens.
Select the Document Generation option and click on the Next button. The Edit Node screen opens.
Click the Titan Sign radio button.
Select the Word template that you added from the Template drop-down list.
Select the record ID from the drop-down list.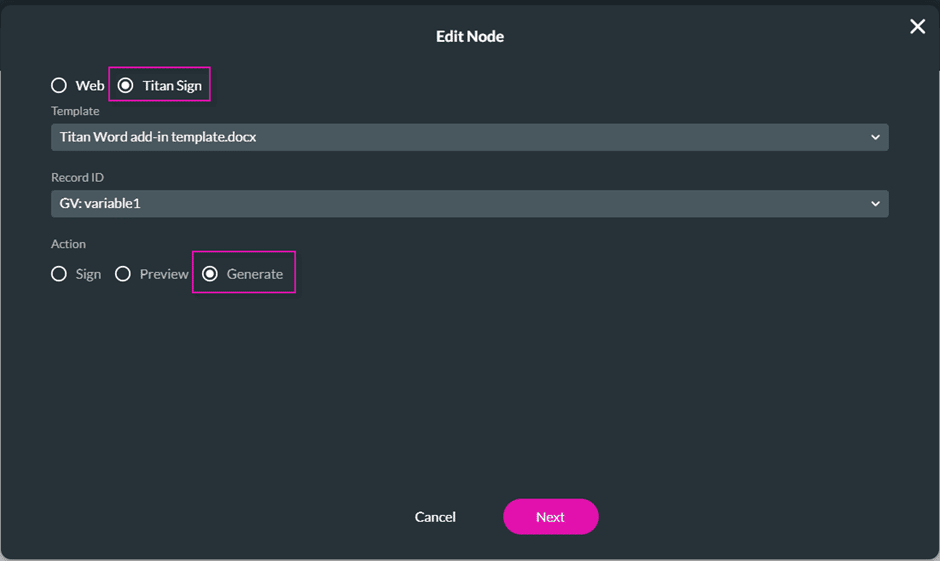 Note:
The following options were available:
For Sign: The person who clicks on the element (for instance, the button) becomes the first signer and signs in the Web project.
For Preview: The person who clicks on the element (for instance, the button) can preview the signed document and send it on in the signing process.
We added this option:
For Generate: This starts the signing process without previewing the document and will send the document to the first signer that was configured in the Titan Sign product.
Select the Generate radio button and select the Next button.
If necessary, add a name in the Tag field and select the Insert button. The action is added to the On Click Action screen.
Click the Apply button to complete the configuration.
Hidden Title
Was this information helpful? Let us know so we can improve!