Finish Survey Slide
Business Background
Configure a Finish Slide to customize the final slide of your survey, according to business needs, with a single click.
Titan Solution
The Finish Slide is automatically added to all surveys.
The Finish Slide has a range of pre-designed layouts, enabling you to configure actions, such as directing users to specific pages, for instance, a "Thank you" screen.
Adjust your Finish Slide as desired by editing text, changing the header and font, adding media, and much more.
How to Video
Use Titan Survey to easily create web or email surveys for Salesforce. In this video, learn more about how to set the Finish Slide.
00:00 Introduction
0:12 Add a Finish Slide: The Finish Slide is available by default.
0:50 Reset Survey: You can use the Again button to reset the survey and allow the user to take the survey again.
0:55 Choose Layout: We show you how to add a layout.
1:44 Preview your Finish Slide.
How to Guide
Create a new Web Survey. The Finish Slide is added automatically.
Select a layout from the layout list.
Click on the Title or Description and type your title or description in the text field. You can also use the Custom HTML option.
Click the Image field and do the following:

Click on the Change Image button to change the image if required.
Click on the Change Hover Image button to change the image when the mouse hovers over the image if required.
Click on the Change On Click Image button to change to a specific image when the survey taker clicks on the image if required.

Choose any of the options that follow:

Choose an image that you uploaded earlier.
Upload an image from your computer.
Add an image URL.
Use Salesforce:

Click on the Salesforce option and do the integration.

Click the Apply button.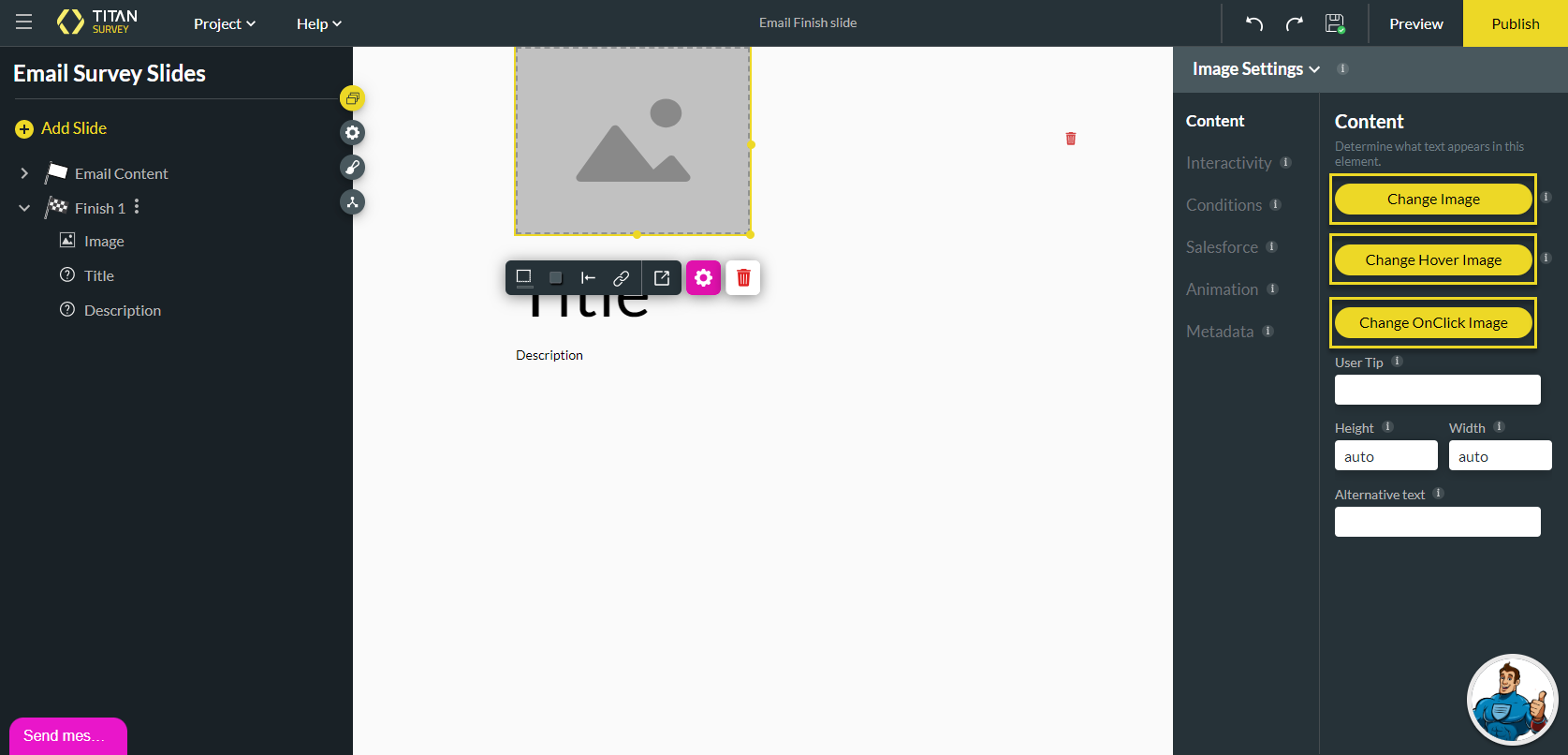 Note:
You can add more than one finish slide. For more information on how to Add Multiple Finish Slides.
You can have a different On Finish Action for each Finish Slide.
Hidden Title
Was this information helpful? Let us know so we can improve!