Titan Salesforce Survey to Add Multiple Questions to a Slide
Business Background
Add multiple questions to a single slide to enable your business to retrieve customer responses to multiple questions on the same slide with a single click.
Titan Solution
Adding multiple questions to a slide enables you to include multiple questions on the same slide.
This can be because you want to group similar question topics together, set questions based on conditional logic, or organize multiple questions on the same slide for any business reason.
Adding multiple questions to a slide enables you to tailor survey slides to suit your business requirements, with data pulled directly from Salesforce.
Customer responses sync straight back to Salesforce, ensuring complete automation for your surveys.
How to Video
Use Titan Survey to easily create web or email surveys for Salesforce. In this video, learn more about how to add multiple questions to a slide.
How to Guide
Add a question slide and click on the Next button.

Here you can see a list of question types, and you are able to select more than one question option under different categories on the Add Slide pop-up.
The number on the Insert button shows how many questions you are adding.

Click on the Insert button.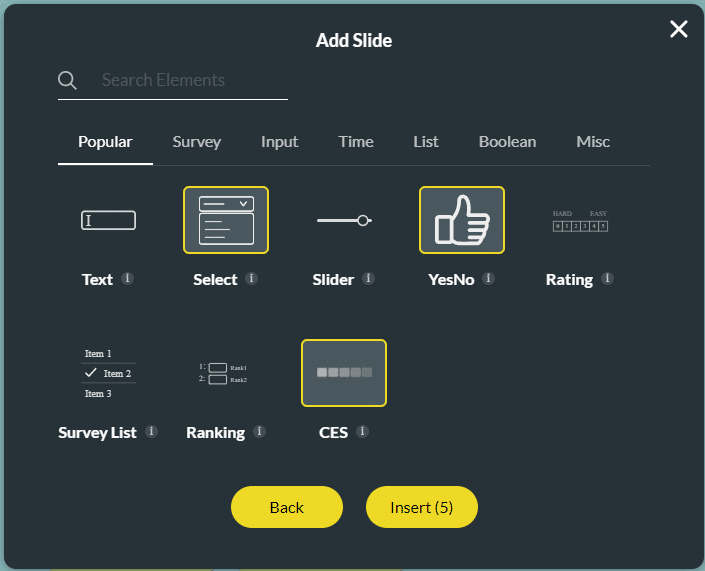 Type your question in the Text field.
Type the description if necessary.
Note:
You can also add a question to the question you added. For instance, if a respondent chooses an answer, you can ask another question about why they chose that answer.
Interested in the Titan/Salesforce Integration? Read about Salesforce Surveys, check out different types of surveys for Salesforce, and view Titan Survey on the Salesforce AppExchange.
Hidden Title
Was this information helpful? Let us know so we can improve!