Salesforce Signers
Business Background
You may need to send a document to unknown signers. These signers can be external to Salesforce. Now you can!
Titan Solution
Use Titan Sign to configure signers that are not known when you configure the process. You can send the sign link during the process. A URL is added to the Titan Sign Document object in Salesforce as a Titan Sign Tracking record.
Send a URL to signers using a method that suits your business needs.
You can send a URL to the number of signers that you configured in the Titan Sign builder. A unique URL is generated for each signer on their unique Titan Sign Tracking record.
The signing process is paused until the unknown signer has signed the document, after which the next known signer will receive an email with the link to the document.
You can have multiple known and unknown signers per document.
How to Video
Coming soon.
How to Guide
Do the following:
Configure the signers
Open the Titan Sign project.
Under Settings, click on Document Access to open the list.
Select the Dynamic radio button and do the Salesforce Configuration.
Configure the known signers.

Click the Signers type checkbox and click the Configure button. The Configure signers screen opens.
Use the radio buttons to select SF Signer for the unknown signers.
Click the Apply button.
Tracking
The Signers section changes and Tracking is automatically switched on:
Tracking must be done to send the URL to Titan Sign Document in Salesforce. The URL is added to the signer's record for the Sign process in Titan Sign Tracking.
Configure the elements for each signer
Click on the signature element in the template and select a signer.
Do this for the known and unknown signers.
Trigger process in Salesforce
The known signer receives an email with the link to the document. When they signed the document, the following known signer will receive an email with a link to the document.
When an unknown signer has to sign, no more emails are sent, and the URL is created in the Titan Sign Tracking object. The sign process is paused, and a Salesforce user must manually send the URL to the identified signer.
Trigger the signing process in Salesforce.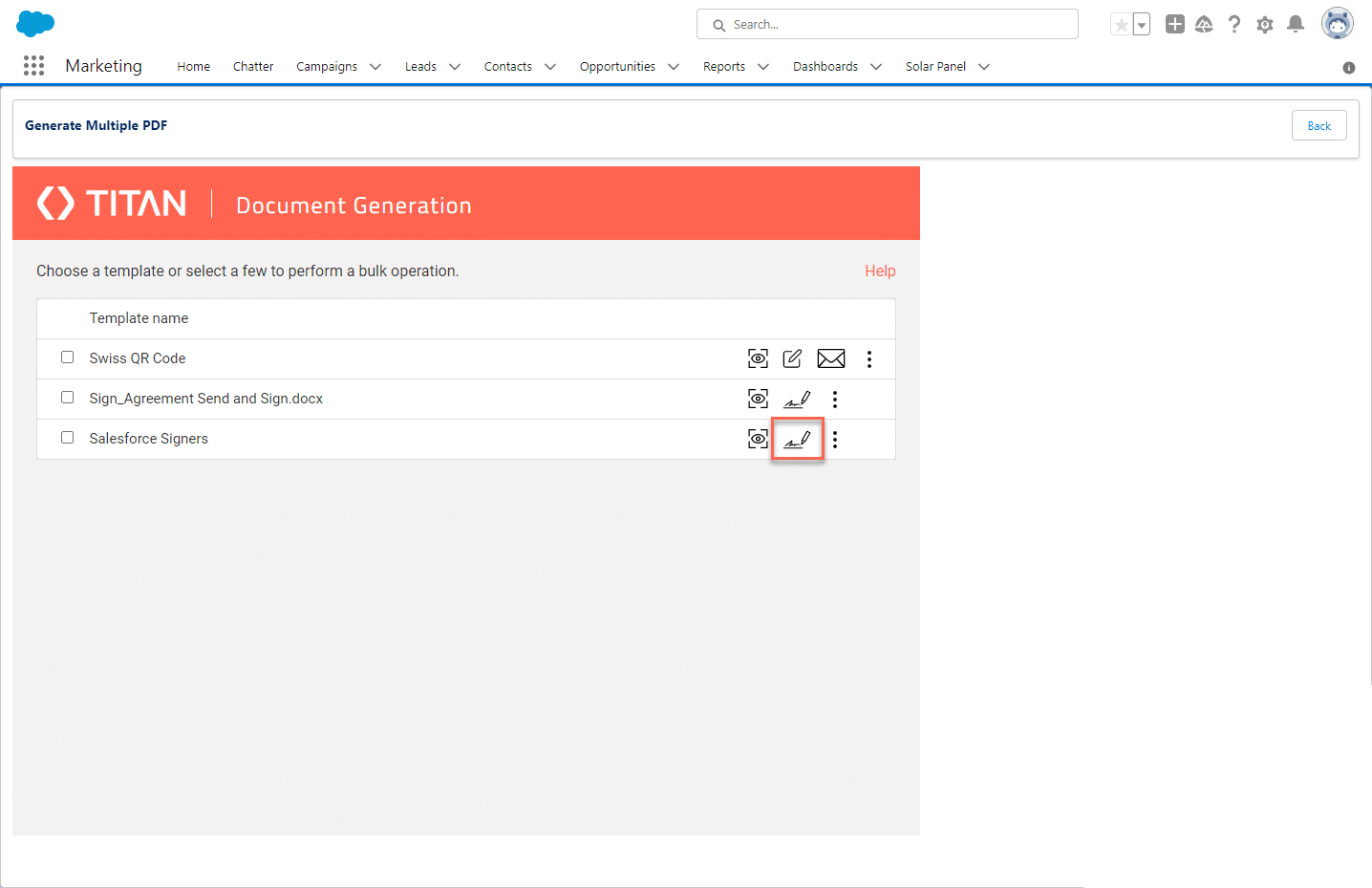 Open Titan Sign Analytics. You will see the Titan Sign document under In Progress.
Click the TSD link.
Note:
The "Current Signer name" is populated with the label that you created in the Titan Sign builder.
Click the Related tab.
Click the TST link. Note that there is no email in the Email field as this signer was not configured in the builder with an email address.
Copy the Document Link and send it to the signer. You can send the URL with automation in Salesforce or via email or SMS.
Hidden Title
Was this information helpful? Let us know so we can improve!