Select Templates
Business Background
Select pre-configured templates to increase flexibility, and minimize the time and effort spent creating a new survey. Use Titan Web templates to provide consistency across a project.
Titan Solution
This exciting new feature lets you select from a range of pre-configured templates for many different industries, such as non-profit, education, or technology.
How to Video
This video teaches you how to work with premade templates using Titan Survey.
How to Guide
You can select a pre-configured template when creating a new Survey project. All the templates have industry-related questions and images already populated in the survey. The templates are very easy to use and effortless to edit.
On Web Surveys:
Several web survey templates have been added to Titan for your use. The Select Template step opens with a Blank template selected by default. To choose another template from a specific industry, select the appropriate checkbox in the panel on the left-hand side of the screen. The following sectors are available:
Non-Profit
Healthcare
Education
Events
Technology
Market Research
Relationship
Human Resources
Sales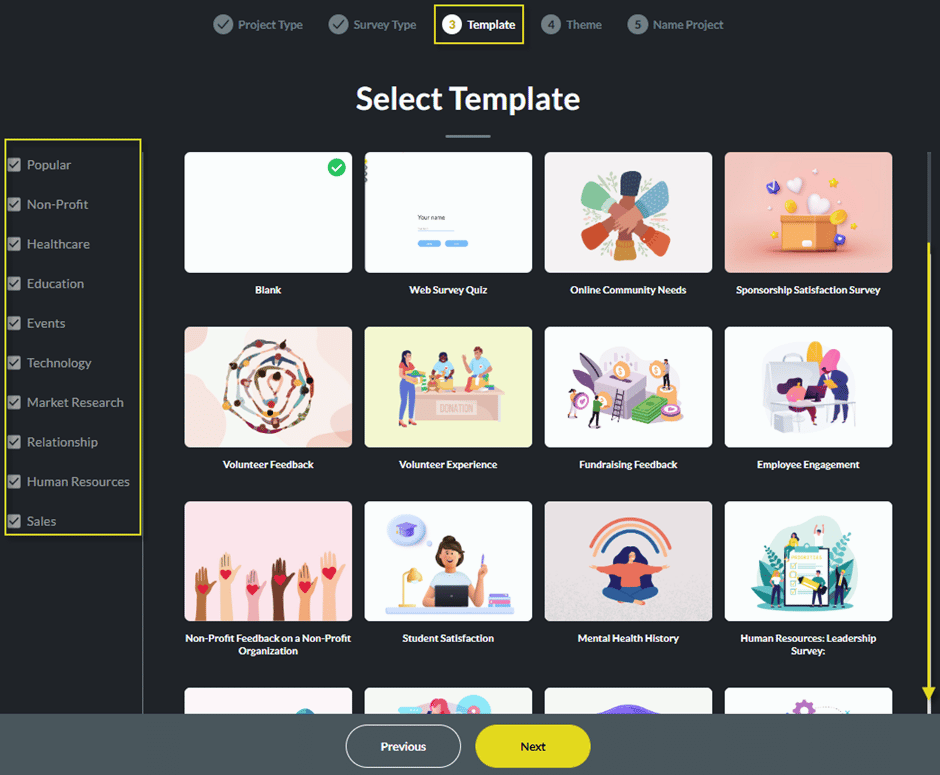 Scroll down the main screen for more template options.
Click on any template to select it.
The image below shows only the templates for Non-Profit. The Blank template remains the default option.
Note:
We also have Email Survey templates for your use.
Hidden Title
Was this information helpful? Let us know so we can improve!