Simple Join Lists
Business Background
The Simple Join Lists option is available for Text elements. When using the Get method to retrieve multiple records from Salesforce into the same text element – they are separated by commas, use the 'Simple Join List' to remove the commas.
How to Video
0:01 Introduction.
0:24 Learn how to pull multiple records from Salesforce.
1:03 We show you how to create a Salesforce get.
1:24 Set the Mapping.
1:40 We show to how to Configure actions.
1:57 Learn how to enable Simple Join Lists.
2:04 View Simple Join Lists.
How to Guide
Select the expand (+) icon next to the settings icon in Titan Web. A list of elements will show.

In this article, we show Paragraph as an example.

Select the Text option from the list.
Select and drag the Paragraph element to the canvas.
Select the Paragraph settings Gear icon. The Text Setting screen opens.
Select the Interactivity option from the list.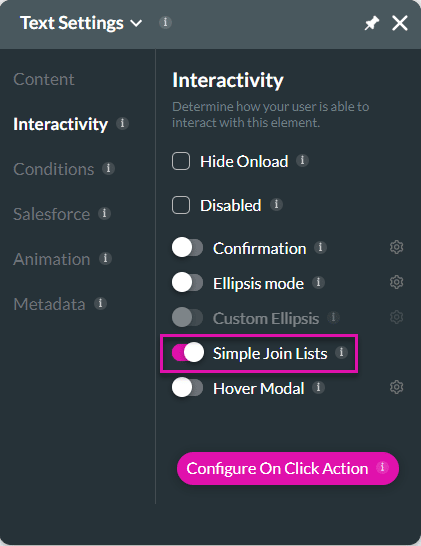 Configure a Salesforce Get, for instance, getting the names from Salesforce contacts.
Enable the Simple Join Lists option to join a list.
See the example below for Salesforce retrieved records with and without the Simple Join Lists. The Simple Join Lists option removes commas in a list.
Hidden Title
Was this information helpful? Let us know so we can improve!