Yes/No
Business Background
The Yes/No option is available for the Yes/No element. Yes or no questions are short questions with one-word answers that can be answered quickly. These types of questions are helpful for people with reading limitations.
Titan Solution
The Yes/No enables respondents to answer your question using thumbs up for Yes and thumbs down for No. This is not just a popular type of value; you can also change the type to dislike or like, smiley face or sad face. It is up to you.
How to Video
0:01 Introduction.
0:05 We show you how to add a Yes/No question.
0:12 Learn how to insert a question.
0:19 We show you how to label the Yes/No Question.
0:35 Learn how to customize the Yes/No question.
0:51 View Salesforce record of Yes/No questions.
How to Guide
Select the expand (+) button next to the settings icon on Web. A list of elements will show.
Select the Survey option from the list.
Select and drag the Yes/No element to the canvas.
Select the Yes/No settings Gear icon. The Yes/No Setting screen opens. The Content list is shown by default.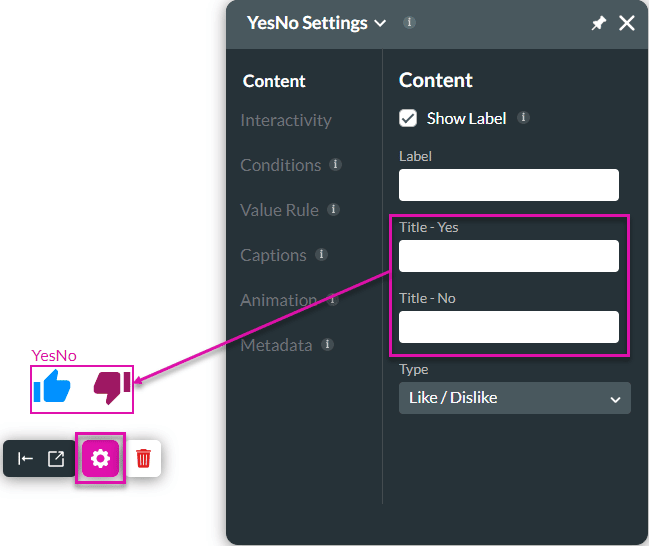 Type the value of the Yes or No element in the field, for instance, positive or negative, agree or disagree. The option will show as a tooltip when the user hovers over the Yes or No option. The Like/Dislike type shows by default.
Select the Type drop-down list to select a different type.
Select the Yes/No option. The cross or check mark can mean true/false, or right/wrong. See the Yes/No option example below:
Select the Smiley Face/Sad Face. A smiley face can mean happiness and positive feelings and a sad face can mean sadness and disappointment. See the Smiley Face/Sad Face option example below:
Note:
You can change the settings of the question.

Hidden Title
Was this information helpful? Let us know so we can improve!