Metadata Options
Business Background
Use the Metadata options to make to fine and categorize relevant data. There are different metadata options available per element, the options will help track information provided for the input fields.
Please see the below table for some Metadata examples and how they are used in Titan Web.
| Name | Use |
| --- | --- |
| Field ID | Assign a unique ID for specific Fields. This also assists with mapping. |
| Parent ID | Create a parent ID for related records in Salesforce. |
| Type | This identifies the kind of input field. |
| Tag | Name each strip created in Titan Web. |
| Comment | Keep track of the changes or updates made to each element. |
How to Video
How to Guide
The field ID option is available for different types of elements. Use this option to identify an element.
Click on the Settings Gear icon. The element settings screen opens.
Select the Metadata option from the list.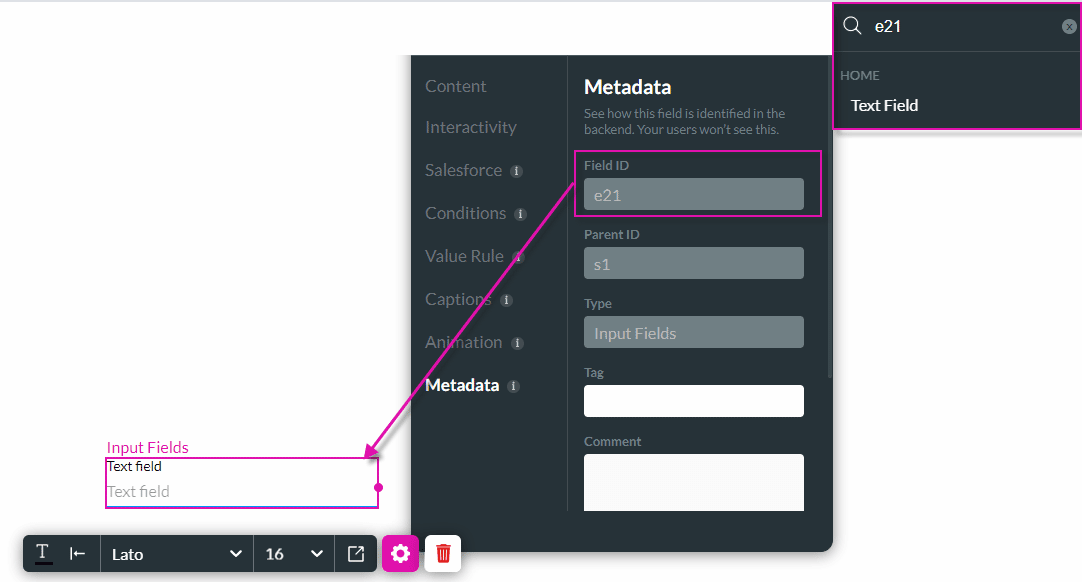 Type the Field ID in the search field and click on the search magnifying glass to identify the element. The element name is shown under Home.
When you work with fields in Conditional Logic or Mapping of Salesforce Integrations, you can also use the unique Field ID to identify elements.
Hidden Title
Was this information helpful? Let us know so we can improve!